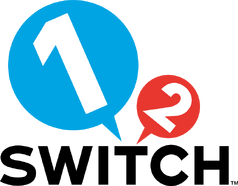 1-2-Switch is a multiplayer party game for the Nintendo Switch that launches with the system in March 3, 2017. The game is played with each player using a separate Joy-Con, but it is not focused on the television screen.
Gameplay
The game is playable with two players with the focus being on each other instead of the screen. There will reportedly be 28 mini-games in which the players perform different tasks and compete against each other. Some may be a gunman showdown while others may be a dance-off where the players have to mimic each other.
List of games
Ball Count
Milk
Telephone
Treasure Chest
Zen
Quick Draw
Safe Cracker
Samurai Training
Signal Flags
Sneaky Dice
Soda Shake
Baby
Baseball
Joy-Con Rotation
Fake Draw
Shave
Table Tennis
Beach Flags
Boxing Gym
Eating Contest
Plate Spin
Sword Fight
Wizard
Air Guitar
Copy Dance
Dance Off
Gorilla
Runway
Development
The game received an update during the week of October 30, 2017. The 1.1 update mainly added the ability to record video added with the 4.0 update for the Nintendo Switch.
Reception
Sales
As of the end of December 2017, 1-2-Switch sold 1.88 million copies worldwide. As of the end of April 2018, 1-2-Switch sold 2.29 million copies worldwide.
Trailer