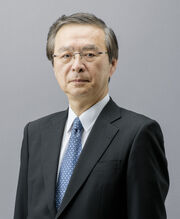 In
1949
,
Hiroshi Yamauchi
became president of
Nintendo
. When Hiroshi Yamauchi became president, he fired all of the employees of Nintendo that were members of his family. It's also the same year game designer
Genyo Takeda
was born.
Events
Date unknown: 2nd president of Nintento Sekiryo Kaneda retires, Hiroshi Yamauchi becomes the 3rd president of Nintendo.
March 7: Genyo Takeda, known as Nintendo's first video game designer, is born in Osaka, Japan.