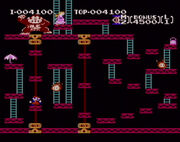 1981 is an important date in Nintendo's history. This year Nintendo's classic Donkey Kong was released which marked the first appearances of Mario (initially known as Jumpman) and Donkey Kong. At the time it was Nintendo's most successful video game.
Timeline
Character debuts
Ad blocker interference detected!
Wikia is a free-to-use site that makes money from advertising. We have a modified experience for viewers using ad blockers

Wikia is not accessible if you've made further modifications. Remove the custom ad blocker rule(s) and the page will load as expected.