ARMS
is a fighting sports game that uses extendable arms for battle. Similar to boxing in that the player strikes their opponents with their fists, however targeting is used in a manner akin to shooter games. ARMS can be played on split-screens, online or with Switch vs Switch.
Gameplay
The game is a 3D arena fighter. Each player holds a Joy-Con in each hand. Tilting in a direction moves the character in that direction. L is a dash, and R is a jump. The punching is done through thrusting forward a Joy-Con and thrusting both forward performs a grab. Pressing ZL or ZR allowing the fighter to start a Flurry Attack by repeatedly punching the opponent.
Cast
Stages
Trailer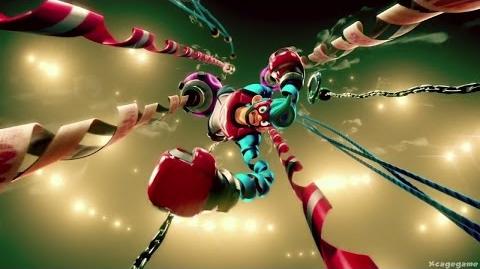 Ad blocker interference detected!
Wikia is a free-to-use site that makes money from advertising. We have a modified experience for viewers using ad blockers

Wikia is not accessible if you've made further modifications. Remove the custom ad blocker rule(s) and the page will load as expected.