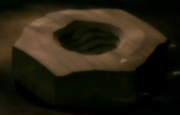 Description: A shiny Nut, Not much else to say..
Treasure Hoard Number:
(NTSC) 99
(PAL) 98
Series: Industrial Set
Value: 70 Pokos
Weight: 12
Maximum Carriers: 20 Pikmin
Location: Sublevel 4/5 of the Subterranean Complex.
Real Life Object: A Nut.
---
Notes:
'Olimar's Journal: '"There appears to be a link between the treasures we found in an underground structure. We found several machine parts that fit together. The parts may provide a clue as to the original function of the area."
Sales Pitch: "None want to believe it: a world so brutal as to require a steel torso guard for self-defense. It is certainly unattractive, but which do you value more: fashion or personal safety?"
Ad blocker interference detected!
Wikia is a free-to-use site that makes money from advertising. We have a modified experience for viewers using ad blockers

Wikia is not accessible if you've made further modifications. Remove the custom ad blocker rule(s) and the page will load as expected.