This article is an orphan, as no other articles link to it. Please introduce links to this page from related articles.

As of: December 2012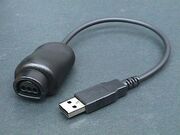 The Adaptoid is an unofficial Nintendo 64 accessory. With it, the user could play their Nintendo 64 on their computer. In order to use it, the user must plug it in the controller port and then plug the other side into the USB outlet on the computer. It supports the Rumble Pak and the use of memory cards.
Ad blocker interference detected!
Wikia is a free-to-use site that makes money from advertising. We have a modified experience for viewers using ad blockers

Wikia is not accessible if you've made further modifications. Remove the custom ad blocker rule(s) and the page will load as expected.