Ad blocker interference detected!
Wikia is a free-to-use site that makes money from advertising. We have a modified experience for viewers using ad blockers

Wikia is not accessible if you've made further modifications. Remove the custom ad blocker rule(s) and the page will load as expected.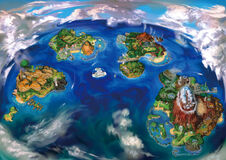 Alola is the region for the seventh generation games, Pokémon Sun and Moon. The region is based off Hawaii.
Locations
The regions consists mainly of 4 islands.
Melemele Island
Akala Island
Island Challenge
Alola lacks a normal Pokémon league and gyms. Instead, trainers have to complete Island trials (which involve completing a Trial Captain's challenge and then beating a Totem Pokémon) and beating each island's Kahuna.
Native Pokémon