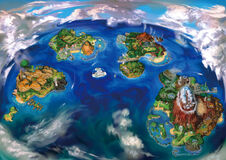 Alola is the region for the seventh generation games, Pokémon Sun and Moon. The region is based off Hawaii.
Locations
The regions consists mainly of 4 islands.
Melemele Island
Akala Island
Island Challenge
Alola lacks a normal Pokémon league and gyms. Instead, trainers have to complete Island trials (which involve completing a Trial Captain's challenge and then beating a Totem Pokémon) and beating each island's Kahuna.
Native Pokémon