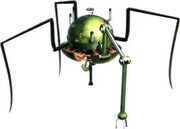 The Arachnorbs family is a family in Pikmin 2 for the Nintendo GameCube and Pikmin 3 for the Wii U. This family consists of five bosses, namely Man-at-Legs, Raging Long Legs and Beady Long Legs from Pikmin 2 and the Shaggy Long Legs and Baldy Long Legs in Pikmin 3. Only Beady Long Legs was in the first Pikmin game. This family is based on spiders, and their habit is stepping on Pikmin except for man at legs, which shoots Pikmin.
Beady Long Legs
Raging Long Legs
Man-at-Legs
Shaggy and Baldy Long Legs
Ad blocker interference detected!
Wikia is a free-to-use site that makes money from advertising. We have a modified experience for viewers using ad blockers

Wikia is not accessible if you've made further modifications. Remove the custom ad blocker rule(s) and the page will load as expected.