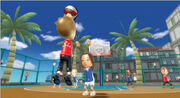 Basketball is a sport the user can chose in the Wii video game Wii Sports Resort. Like all of the games present in Wii Sports Resort, it requires the use of Wii MotionPlus. A multiplayer mode is available.
There are two different modes available for this game, 3-Point Contest and Pickup Game.
If the user holds down on the 2 button on the Wii Remote while the game is loading, then they will play at night time.
Ad blocker interference detected!
Wikia is a free-to-use site that makes money from advertising. We have a modified experience for viewers using ad blockers

Wikia is not accessible if you've made further modifications. Remove the custom ad blocker rule(s) and the page will load as expected.