Baten Kaitos: Eternal Wings and the Lost Ocean



North American box art

Developer(s)
Monolith Soft
Tri-Crescendo
Publisher(s)
Namco
Nintendo (PAL)

                   Release Date(s)

---

| | |
| --- | --- |
|                NA:  | November 16, 2004 |

| | |
| --- | --- |
|                JP:  | December 5, 2003 |

Platform(s)
Genre(s)
RPG
Rating(s)
ESRB  PEGI  CERO  USK  ACB

Credits • Gallery • Cheats & Hints • Videos
Baten Kaitos: Eternal Wings and the Lost Ocean (JPJapanese: バテン・カイトス 終わらない翼と失われた海

Romaji: Baten Kaitosu: Owaranai Tsubasa to Ushinawareta Umi

Fan Translation: Baten Kaitos: Wings with no End and The Lost Sea) is a video game for the GameCube. It was co-developed by Monolith Soft and Tri-Crescendo, and published by Namco. The game is an RPG that spawned a less-successful sequel called Baten Kaitos Origins. The game is an RPG, that also features some card based mechanics as well. It was once stated by Namco that they are going to create another sequel to this game on the Nintendo DS, though about a year later and still no word on when or if this game will ever be released.
Videos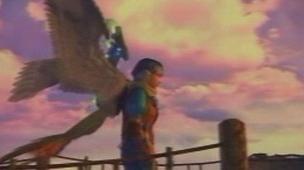 Trailer
External links
Ad blocker interference detected!
Wikia is a free-to-use site that makes money from advertising. We have a modified experience for viewers using ad blockers

Wikia is not accessible if you've made further modifications. Remove the custom ad blocker rule(s) and the page will load as expected.