Ad blocker interference detected!
Wikia is a free-to-use site that makes money from advertising. We have a modified experience for viewers using ad blockers

Wikia is not accessible if you've made further modifications. Remove the custom ad blocker rule(s) and the page will load as expected.
         Quote

"I'm just one sneaky, peeping, two-bit step away from becoming an even richer richest ape on Kongo Bongo Island - and that's rich."

— Bluster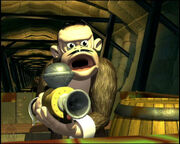 Bluster Kong
is a character in the
Donkey Kong
franchise only seen in the
Donkey Kong Country TV series
. Though bluster is not evil, he is greedy, disrespectful and cowardly. Bluster is the owner and manager of Bluster's Barrel Works. Bluster will do anything for
Candy
's love, even if it means making a love potion or stealing the
Crystal Coconut
.
References
Pictures from Kongo Valley: http://kongovalley.50webs.com/html/index.html