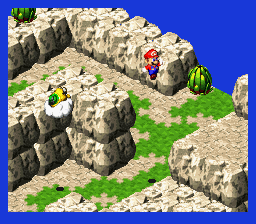 Booster Pass is a small area (composed of two sections) that leads to Booster Tower in the game Super Mario RPG: Legend of the Seven Stars. The first section has a Lakitu prowling it and several other enemies in it. The second hidden area is like an obstacle course and in it the Apprentices train to become Booster's next Snifit.
Ad blocker interference detected!
Wikia is a free-to-use site that makes money from advertising. We have a modified experience for viewers using ad blockers

Wikia is not accessible if you've made further modifications. Remove the custom ad blocker rule(s) and the page will load as expected.