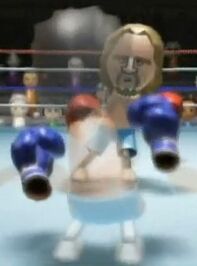 Boxing is one of the five sports available for Wii Sports. You need to firstly connect the nunchuk to the wii remote's connector hook(because you need to have the nunchuk to play this game)and then you can play. You need to punch hard and hold the wii remote on your dominant hand and the nunchuk on the opposing side. If you want to punch on your opponents body, hold the wii remote and nunchuck down and punch;If you want to punch on your opponents head,hold the wii remote and nunchuck up and punch. If there is no clear winner by the end of round three, the winner will be decided by the judge.
Trivia
The champion in boxing is Matt. If you beat the champion (Matt) in boxing, you can press 1 on loading screen to get his silver boxing gloves. Interestingly, you can find out Matt is the champion in boxing by seeing him on the screen(in the background)In boxing training. And in the distance, you can see a whole shelf of trophies of what looks like Matt has won making him the champion in boxing.
Ad blocker interference detected!
Wikia is a free-to-use site that makes money from advertising. We have a modified experience for viewers using ad blockers

Wikia is not accessible if you've made further modifications. Remove the custom ad blocker rule(s) and the page will load as expected.