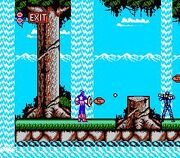 Captain America (real name Steve Rogers) is a comic book character created by Marvel Comics. While he's obviously not noted as being a video game character, he has appeared in quite a few (full list can be seen below). He's a super hero (one of the first Marvel ever created) who obtained his powers during World War 2 where the U.S. government injected a super serum into his body, thus making him more powerful, agile, ext...
Video Games
Steve Rogers has appeared in multiple video games, including, but not limited to Captain America and the Avengers, Marvel: Ultimate Alliance, Marvel Nemesis: Rise of the Imperfects, and multiple other Marvel classics.
Ad blocker interference detected!
Wikia is a free-to-use site that makes money from advertising. We have a modified experience for viewers using ad blockers

Wikia is not accessible if you've made further modifications. Remove the custom ad blocker rule(s) and the page will load as expected.