North American box art

Developer(s)
Nintendo EAD Tokyo,
1-UP Studio
Publisher(s)
Nintendo

                   Release Date(s)

---

Wii U

| | |
| --- | --- |
|                NA:  | December 5, 2014 |

| | |
| --- | --- |
|                JP:  | November 13, 2014 |

----

Nintendo Switch

----

3DS

Platform(s)
Classification(s)
Accessory(ies)
Genre(s)
Action puzzle,
Platformer
Rating(s)
ESRB  PEGI  CERO  USK  ACB

Credits • Gallery • Cheats & Hints • Videos
Captain Toad: Treasure Tracker (JPJapanese: 進め!キノピオ隊長

Romaji: Susume! Kinopio Taichō

Fan Translation: Advance! Captain Toad) is a puzzle game for the Wii U released in 2014. The game expands on the concepts from the Captain Toad levels from Super Mario 3D World and adds more Wii U GamePad functionality. A port for Nintendo Switch and Nintendo 3DS have been announced and will be released on July 13, 2018, which will include new levels based on Super Mario Odyssey.
Plot
While Captain Toad and Toadette are adventuring, a giant bird, Wingo, comes and grabs the power star they find. Toadette grabs it and gets taken away. 
Gameplay
The gameplay is very similar to the Captain Toad levels in Super Mario 3D World. However, there are a few additions. The main goal now is to get a Power Star at the end of a level but there are 3 gems in a more roundabout path.
There is also an additional challenge for each level. The player can also play as Toadette for certain levels. The touch blocks mechanic has been expanded into more puzzles as well as a rotating switch.
There are turnips used from Super Mario Bros. 2 to defeat enemies like Shy Guys. The mine-cart levels have the player aim with GamePad to fire turnips at enemies and gems. There are also boss levels.
Power-ups
Enemies
amiibo functionality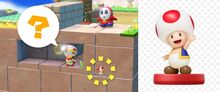 This game supports the Toad amiibo from the Super Mario series. Putting him on the NFC scanner will play a pixel toad in the level and the goal is to find it.
Other amiibo scanned in will give extra lives.
Courses
There are over 70 courses in the game. Courses include:
Episode 1
Episode 2
Episode 3
Bonus episode
This episode will either unlock from the start if there is a Super Mario 3D World save, or unlock after beating the 3 other episodes. The levels included are from 3D World but they only contain a green star.
Development
The game originally started development as a Legend of Zelda game but, Nintendo rejected it. They were impressed by the dioramas though.
Reception
The game was received by critics decently well, scoring a Metacritic of 80 and a GameRankings of 80.36%.
In terms of sales, the game has performed decently for a low budget release, selling about 39,000 in its first week in Japan.
Trivia
Gallery