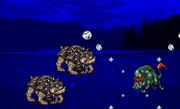 Catoblepas is both an enemy species and a summon in the Final Fantasy series. It first appeared in the Famicom video game Final Fantasy III as an enemy. In the game, it resembled a purple bull that had wings, a devilish tale and two hulking horns. Its first appearance as a summon was in the SNES video game Final Fantasy V, and later Final Fantasy VI. At first you'll have to battle him on a Chocobo infested island, and following the fight he'll be available as a summon. The creature is obtained instantly in the Magitek Research Facility in Final Fantasy VI.
Appearances
Ad blocker interference detected!
Wikia is a free-to-use site that makes money from advertising. We have a modified experience for viewers using ad blockers

Wikia is not accessible if you've made further modifications. Remove the custom ad blocker rule(s) and the page will load as expected.