Christine is the heroine of the NES game Arkista's Ring. Christine is a green haired elf who lives in Arkista; a country. Her main goal is to defeat the villain and gain back the ring that keeps her homeland safe. She is one of the earliest heroines to appear in video games as the main playable character. Christine uses a bow and a knife, as well as other disposable items (wands, bombs)to fight; she somewhat resembles Link.
Christine's Quest
One day the villainous '''Shogun''' stole the sacred ring, Arkista's Ring, that is very important to the Elves. The ring was given to the elves by Arkista, a goddess, which keeps the elves safe. After the ring is stolen Christine, a loyal warrior, packs up a bow and decides to try and get Arkista's ring back.
On her quest Christine faces countless numbers of foes, from scorpions to goblins, including ninjas and possessed beings. However Shogun puts a trap on Christine, in every stage her gives a key to a loyal subject; without the key Christine can't advance to the next stage. So this villainous idea gives Shogun some time to gain more power. It is all up to Christine to succeed in every level and maintain herself alive and strong for the final battle. Christine may sometimes find hidden armory and health potions or stronger arrows.
Once she defeats all of Shogun's minions, she heads to face off Shogun in hopes to restore the sacred ring.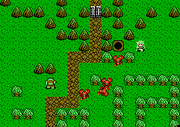 After that
After that game Christine has yet to return to a video game, it has been almost twenty years before her return. Although she is not popular her game was received well at its time. Christine is also something special, as she is one of the first few females to have her own game; which marked way to some of the heroines we see now today.