Clefts
are monster rocks in the
Paper Mario series
.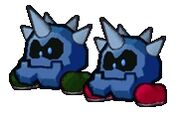 Description
Goombario: This is a Cleft and he is spiky! His HP is 2 and his attack is 2 and his defense is 2. It's invulnerable to fire, so you must hammer it and it's spiky and you can't jump on it!
Strategy
Paper Mario
Clefts are found in Mt. Rugged. Goombario will tell Mario to keep his eyes out for Clefts and they can crush him. When Mario battles him, he can use a POW Block as this is a weakness.
Paper Mario: The Thousand-Year Door
Clefts are the Thwomp's children in Paper Mario in Schwonk Fortress. If Mario answers three wrong, he will fight four Clefts. If he got a POW Block, he can defeat them instantly. Clefts are also found in Boggly Woods and the Pit of 100 Trials.
Varieties
Notable Clefts and Cleft Members