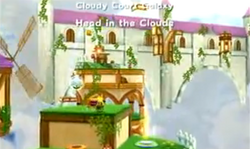 Cloudy Court Galaxy is a galaxy featured in World 3 of Super Mario Galaxy 2. This galaxy is full of clouds and windmills that move the clouds as well as some Cloud Flowers.
Missions
Head in the Clouds
The Shadow Lining
Silver Stars in the Purple Pond
Green Star Challenges
Ad blocker interference detected!
Wikia is a free-to-use site that makes money from advertising. We have a modified experience for viewers using ad blockers

Wikia is not accessible if you've made further modifications. Remove the custom ad blocker rule(s) and the page will load as expected.