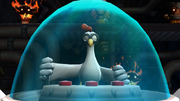 Colonel Pluck
is a boss from the 2011 game
Donkey Kong Country Returns
. He appears in the seventh region, the factory. After Donkey Kong passes the levels of the factory region, he and Diddy Kong enter a room, and find Colonel Pluck using the Stompybot 3000 to smash Donkey Kong's bananas and use them to make tiki minions. Colonel Pluck then becomes hypnotised by a tiki boss that represents an accordion. Donkey kong must defeat Colonel Pluck by grabbing the bottom of the Stompybots cockpit when it turns to grass. after three hits, the Stompybot will lose its legs and the glass dome protecting Colonel Pluck. Then Donkey Kong can hit Colonel Pluck when he hits the ground. after three more hits, Colonel Pluck will be knocked unconscious, and the accordion tiki will be vulnerable to attack.
Ad blocker interference detected!
Wikia is a free-to-use site that makes money from advertising. We have a modified experience for viewers using ad blockers

Wikia is not accessible if you've made further modifications. Remove the custom ad blocker rule(s) and the page will load as expected.