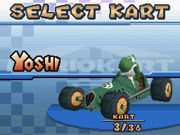 The Cucumber is one of three karts owned by Yoshi in Mario Kart DS, the other two being the Egg 1 and the Standard YS. As the name suggests, it pretty much looks like a cucumber with wheels and a motor. It is the least popular of Yoshi's karts, probably due to its low speed and drift. Items and acceleration, however, are not let-downs.
Stats
Speed - 5/10
Acceleration - 9/10
Weight - 6/10
Handling - 8/10
Drift - 4/10
Items - 10/10
Ad blocker interference detected!
Wikia is a free-to-use site that makes money from advertising. We have a modified experience for viewers using ad blockers

Wikia is not accessible if you've made further modifications. Remove the custom ad blocker rule(s) and the page will load as expected.