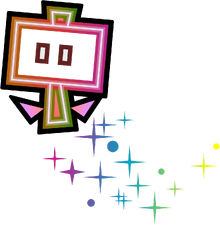 Cudge is a hammer pixl that allows the character to use a hammer that can be used to destroy yellow blocks and to damage enemies. He is obtained at the Gap of Crag. When Mario discovers him, he will ask the player what their favorite word is similarly to the name entry screen. He then screams the word loudly.
Trivia
You can make Cudge say anything, including coarse language, and anything a person can do to entertain others.
He works like the series' trademark item, the Hammer.
Ad blocker interference detected!
Wikia is a free-to-use site that makes money from advertising. We have a modified experience for viewers using ad blockers

Wikia is not accessible if you've made further modifications. Remove the custom ad blocker rule(s) and the page will load as expected.