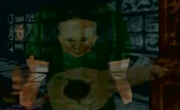 D'Narth is the first and last of the Dragon Keepers in Shadowgate 64: Trials of the Four Towers. In the corner of his room in the Dragon Tower, his unfinished Dragon lyre can be found. If the main character, Del Cottonwood, strings the hair of a giant (found in Lakmir's Tower) on the lyre, it will disappear and then reappear in D'Narth's ghostly hands. He will then play Del a song called the Melody of Flight which, when remembered, will help lower a staircase that leads to the last dragon.
Ad blocker interference detected!
Wikia is a free-to-use site that makes money from advertising. We have a modified experience for viewers using ad blockers

Wikia is not accessible if you've made further modifications. Remove the custom ad blocker rule(s) and the page will load as expected.