The Dactyl Nest is where the Dactyls live in 65,000,000 B.C. in Chrono Trigger.
The nest is located in the northern portion of the continent of the World Map. The Laruba Ruins are located to the southwest.
History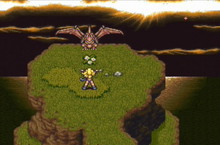 After deciding to attack the Tyrano Lair head-on, Ayla climbs to the Dactyl Nest to ride the Dactyls to the Lair. Crono's party follows her to the Nest where they ride to the Tyrano Lair together.
Locations
There are no specific locations within the Dactyl Nest.
People and Enemies
The following is a list of important characters and enemies the player will encounter.