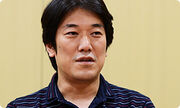 Daiki Iwamoto is an employee at Nintendo Entertainment Analysis and Development. His first game at Nintendo was Super Mario 64, where he was among the game's various programmers. Iwamoto primarily works with Nintendo EAD3 on the Legend of Zelda franchise. He directed both The Legend of Zelda: Phantom Hourglass and The Legend of Zelda: Spirit Tracks on the Nintendo DS, and was the boss battle director for The Legend of Zelda: Four Swords Adventures for the GameCube.
List of video games
Ad blocker interference detected!
Wikia is a free-to-use site that makes money from advertising. We have a modified experience for viewers using ad blockers

Wikia is not accessible if you've made further modifications. Remove the custom ad blocker rule(s) and the page will load as expected.