This article is an orphan, as no other articles link to it. Please introduce links to this page from related articles.

As of: August 2013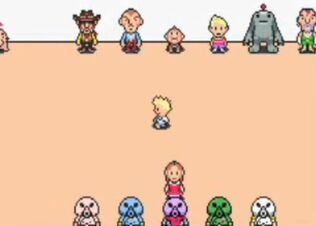 The Debug Room is a location on the video game Mother 3. The room can be accessed by debugging the game or using an action replay cheat code. The room is just a plain room, with numerous characters from the video game. The characters will allow you to set options for certain chapters of the game, as well as allowing the player to view other features as well. When leaving the debug room with certain characters (excluding Mr. Saturn), the player will get free Omelets.
External links
Ad blocker interference detected!
Wikia is a free-to-use site that makes money from advertising. We have a modified experience for viewers using ad blockers

Wikia is not accessible if you've made further modifications. Remove the custom ad blocker rule(s) and the page will load as expected.