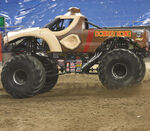 The Donkey Kong truck is a Monster Truck based on the Donkey Kong series, that's owned by Monster Jam. The truck's features includes Donkey Kong's ears, tuft of hair and his signature red tie.
Toys
Hot Wheels released a Monster Jam Donkey Kong toy truck in many sizes.
Ad blocker interference detected!
Wikia is a free-to-use site that makes money from advertising. We have a modified experience for viewers using ad blockers

Wikia is not accessible if you've made further modifications. Remove the custom ad blocker rule(s) and the page will load as expected.