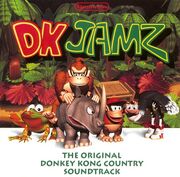 This is the official CD Soundtrack for
Donkey Kong Country
and it contains a total of 23 songs.
List of Songs
Opening Theme
Simian Segue
DK Island Swing
Cranky's Theme
Jungle Groove
Cave Dweller Concert
Bonus Room Blitz
Aquatic Ambiance
Candy's Love Song
Bad Boss Boogie
Mine Cart Madness
Life in the Mines
Voices of the Temple
Forest Frenzy
Treetop Rock
Funky's Fugue
Misty Menace
Northern Hemispheres
Ice Cave Chant
Fear Factory
Gang Plank Galleon
K. Rool's Cacophony
The Credits Concerto
Ad blocker interference detected!
Wikia is a free-to-use site that makes money from advertising. We have a modified experience for viewers using ad blockers

Wikia is not accessible if you've made further modifications. Remove the custom ad blocker rule(s) and the page will load as expected.