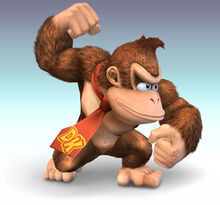 The Donkey Kong series has referenced in every Super Smash Bros game. Its main character, Donkey Kong, has appeared in every game, and Diddy Kong was added in Brawl.
Super Smash Bros.
The first Smash Bros. game only included only a character, a stage, and a few items, like most of the other franchises represented.
Characters
DK was the only Donkey Kong character in the game, though originally being a Mario character, he was given his own symbol.
Stages
Items
Super Smash Bros. Melee
Characters
DK was still the only character from his series, but was given more stages and items.
Stages
Kongo Jungle = The original stage from the first game was one of three Past stages.
Items
Trophies
Donkey Kong - Obtained by beating classic mode once with Donkey Kong.
Donkey Kong (Smash 1) - Obtained by beating adventure mode once with Donkey Kong.
Donkey Kong (Smash 2) - Obtained by beating all-star mode once with Donkey Kong.
Dixie Kong
King K. Rool
Super Smash Bros. Brawl
Characters
Stages
Items
Trophies
Stickers
Music
Other
Super Smash Bros. for Nintendo 3DS / Wii U
Characters
Stages
Mii Outfits
Items
Smash Run
Trophies
Donkey Kong
Donkey Kong (Alt.)
Diddy Kong
Diddy Kong (Alt.)
Peanut Popgun
Rocketbarrel Pack
Hammer
Hammerhead
Spring
Pauline
Cranky Kong
Funky Kong
Candy Kong
Kritter
King K. Rool
DK Barrel
Dixie Kong
Tutorial Pig
Krazy Kalimba
Tiki Buzz
Rambi
Expresso
Squawks
Squitter
Mugly
Cap'n Greenbeard
Konga Beat
Rocketbarrel Barrage
Enguarde
Winky
Zinger
Wrinkly Kong
Tiny Kong
Lanky Kong
Stu
Mole Miner Max
Thugly
Colonel Pluck
Tiki Tong
Pointy Tuck
Fish Poker Pops
Pompy, the Presumptuous
Snowmad Ship
Music
The songs that are Italicized are returning from past games
Donkey Kong
Opening (Donkey Kong)
25m Theme
Kongo Jungle
Jungle Level
Jungle Level Ver. 2
Jungle Level Jazz Style
Jungle Level Tribal Style
King K. Rool / Ship Deck 2
Stickerbush Symphony
DK Rap
Battle for Storm Hill
Donkey Kong Country Returns
Jungle Hijinx
Mole Patrol
Gear Getaway
Mangrove Cove
Swinger Flinger