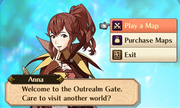 Downloadable Content (DLC) is a video game term that refers to content that is added to a game after its purchase. Some games have extra downloadable content, such as extra levels or more characters. For some games the DLC must be paid for, but for others it is free. Some Nintendo 3DS games use SpotPass to download free DLC.
Games
These are games with DLC.
Game
Console
Content
Pay/Free
Call of Duty: Ghosts
Wii U
New Multiplayer Map
Free
Samurai Warriors 3
Wii
Extra Levels

Paid

Mega Man 10
Wii
Extra Levels
Paid
Fire Emblem: New Mystery of the Emblem
DS
Extra levels
Free
Dragon Quest IX: Sentinels of the Starry Skies
DS
Extra quests and storylines
Free
Samurai Warriors Chronicles
3DS
Extra levels and weapons
Free
Dead or Alive: Dimensions
3DS
Extra Costumes
Free
Fire Emblem Awakening
3DS
Paid: Extra levels, items, and more characters
Free: Extra characters.
Both
Art Academy: Lessons for Everyone!
3DS
Extra Lessons
Paid
Samurai Warriors Chronicles 2nd
3DS
Costumes
Paid
New Super Mario Bros. 2
3DS
Level Packs
Paid
Pokémon Mystery Dungeon: Gates to Infinity
3DS
Level Packs
Paid
Animal Crossing: New Leaf
3DS
Furniture
Free
New Super Mario Bros. U
Wii U
Level Pack
Paid
Ninja Gaiden 3: Razor's Edge
Wii U
Characters, levels, and costumes
Free
Shin Megami Tensei IV
3DS
Quests
Paid
Pikmin 3
Wii U
Level packs
Mostly Paid
Phoenix Wright: Ace Attorney - Dual Destinies
3DS
Costumes & Case
Paid
Mario Kart 8
Wii U
Characters, Courses and Vehicles
Paid (excluding Mercedes-Benz)
Tetris Axis
3DS
Extra Items
Free
Tomodachi Life
3DS
Items and Miis
Free
Steel Diver: Sub Wars
3DS
Extra Submarines and remodels
Paid
StreetPass Mii Plaza
3DS
New games
Paid
Hyrule Warriors
Wii U
Costumes, items and extra levels
Paid
Persona Q: Shadows of the Labyrinth
3DS
Quests and Voices
Paid
Mighty Gunvolt
3DS
Extra levels
Paid
Fantasy Life
3DS
New quests, pets, items and customization options
Paid
Theatrhythm Final Fantasy: Curtain Call
3DS
Extra songs and characters
Paid
One Piece: Unlimited World Red
3DS
Extra quests and costumes
Both
Bike Rider DX2: Galaxy
3DS
Extra levels
Both
Mario Golf: World Tour
3DS
Extra courses and characters
Paid
Conception II: Children of the Seven Stars
3DS
Quests and weapons
Both
Disney Magical World
3DS
Costumes, items and levels
Both
Pure Chess
3DS
New skins
Paid
AeternoBlade
3DS
Costumes and quests
Paid
Super Smash Bros. for Nintendo 3DS and Wii U
3DS
Wii U
Mii Fighter costumes, characters and stages
Both
Xenoblade Chronicles X
Wii U
Characters

Paid

Splatoon
Wii U
Weapons, costumes and stages
Free
Animal Crossing: Happy Home Designer
3DS
New villagers and furniture
Free
Super Mario Maker
Wii U
costumes, course elements, event courses
Free
Minecraft
Wii U
Skin Packs, Texture Packs, And Mash-Up Packs
Paid
Fire Emblem Fates
3DS
Alternate storyline, new maps
Paid
Runbow
Wii U
New story campaign, new skins
Paid
.