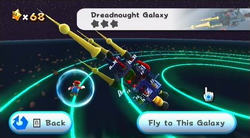 Dreadnought Galaxy is a galaxy found in Super Mario Galaxy. You will be able to unlock it once you have 48 stars.
Levels
Infiltrating the Dreadnought
Dreadnought's Colossal Cannons
Revenge of the Topman Tribe
Topman Tribe Speed Run
Battlestation's Purple Coins
Dreadnought's Garbage Dump
Walkthrough
Ad blocker interference detected!
Wikia is a free-to-use site that makes money from advertising. We have a modified experience for viewers using ad blockers

Wikia is not accessible if you've made further modifications. Remove the custom ad blocker rule(s) and the page will load as expected.