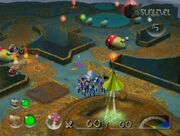 Dream Den is the name of the final dungeon in Pikmin 2 for the GameCube, the Dream Den is a fourteen-floor cave found in the Wistful Wild area. It is the residence of the game's final boss, the Titan Dweevil which is found on the bottom floor along with Louie. Because there are so many hazards and enemies in this place, bringing along 20 of each Pikmin type is advisable. There are 21 treasures to be salvaged here, five of them are on the Titan Dweevil's sublevel. There is a rest stop on sublevel 9 that can help you escape with your treasures so you can finish the rest of the dungeon later on.
Floors
Sublevel 1
Sublevel 2
Sublevel 3
Sublevel 4
Sublevel 5
Sublevel 6
Sublevel 7
Sublevel 8
Sublevel 9
Sublevel 10
Sublevel 11
Sublevel 12
Sublevel 13
Sublevel 14
External links
Ad blocker interference detected!
Wikia is a free-to-use site that makes money from advertising. We have a modified experience for viewers using ad blockers

Wikia is not accessible if you've made further modifications. Remove the custom ad blocker rule(s) and the page will load as expected.