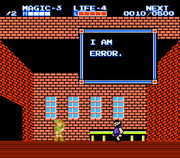 Error is an extremely minor character who appears in Zelda II: The Adventure of Link for the NES. In the game, he is a blacksmith who lives in Ruto Town. He is a popular character for laminating the now popular phrase "I am Error", and nothing else. There is another character in the game whom, within the story, is familiar with Error. He goes by the name of Bagu. The joke implied is that there are an error and a bug ("bagu" is an almost direct romaji for the English word).
This was referenced in later games, such as in Super Paper Mario when Fracktail malfunctions, thus saying "I am Error", among many other things. The character himself later tells you that there's a tunnel south of the palace, though overall the only reason he has any importance whatsoever is his saying.
Ad blocker interference detected!
Wikia is a free-to-use site that makes money from advertising. We have a modified experience for viewers using ad blockers

Wikia is not accessible if you've made further modifications. Remove the custom ad blocker rule(s) and the page will load as expected.