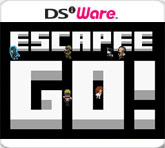 Escapee GO!
is a
DSiWare
game that revolves around the main character Claire trying to escape from an unknown enemy that is hunting her down. During her escape, she can find mysterious items that can help her temporarily such as items can help her run faster and a wider range of sight. Claire wakes up not knowing where she is, but knows something inside her has changed and she needs to escape!
Ad blocker interference detected!
Wikia is a free-to-use site that makes money from advertising. We have a modified experience for viewers using ad blockers

Wikia is not accessible if you've made further modifications. Remove the custom ad blocker rule(s) and the page will load as expected.