F1 2011 is a game for Nintendo 3DS. It is developed by Sumo Digital and is published by Codemasters. This game is related Formula One.
Gameplay
List of tracks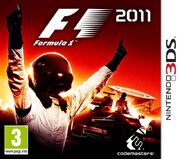 Main Menu
Quick Race - play this mode to select a track & drivers and win the race.
Time Trial - play this mode to make the fastest lap possible.
Grand Prix - play this mode to enter the competition and win the cup.
Career - play this mode to complete constructor's requests.
Championship - play this mode to win tracks all around the world.
Challenges - play this mode to complete missions.
Multiplayer - (Requires Wireless) play with other people and beat them via wireless connection.
Records - go to this mode to see what you unlocked.
Options - go to options to change something.
List of drivers
Red Bull
McLaren Mercedes
Scuderia Ferrari
Mercedes GP
Lotus Renault GP
AT&T Williams
Force India
Sauber
Scuderia Toro Rosso
Team Lotus
HRT
Marussia Virgi
Ad blocker interference detected!
Wikia is a free-to-use site that makes money from advertising. We have a modified experience for viewers using ad blockers

Wikia is not accessible if you've made further modifications. Remove the custom ad blocker rule(s) and the page will load as expected.