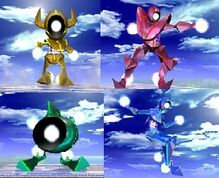 The Fighting Alloy Team is a group of characters from Super Smash Bros. Brawl. They replace the Fighting Wire Frames. They are fought in the mode Multi-Man Brawl, and they resemble as four playable characters in the game.
They are:Blue Alloy (fights like Zelda), Green Alloy (fights like Kirby), Red Alloy (fights like Captain Falcon), and Yellow Alloy (fights like Mario).
They can also be used as playable characters using hacks.
Ad blocker interference detected!
Wikia is a free-to-use site that makes money from advertising. We have a modified experience for viewers using ad blockers

Wikia is not accessible if you've made further modifications. Remove the custom ad blocker rule(s) and the page will load as expected.