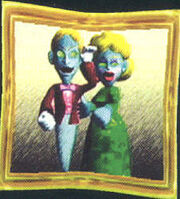 The Floating Whirlandas are a married couple found dancing in The Ballroom of Luigi's Mansion for the GameCube. Before their death they were waltz champions, though are no longer able to compete because of their ghostly state. The duo would become vulnerable when the male uttered "Ahhh!".
Ad blocker interference detected!
Wikia is a free-to-use site that makes money from advertising. We have a modified experience for viewers using ad blockers

Wikia is not accessible if you've made further modifications. Remove the custom ad blocker rule(s) and the page will load as expected.