Galaga
Developer(s)
Namco
Publisher(s)
Namco
Midway Games (Arcade US)
Bandai (NES)
Bandai Namco Entertainment (VC)

                   Release Date(s)

---

Arcade

----

Nintendo Entertainment System

| | |
| --- | --- |
|                JP:  | February 15, 1985 |

| | |
| --- | --- |
|                EU:  | 1988 |

----

Famicom Disk System

----

Virtual Console (Wii)

               NA: 
April 11, 2007

August 15, 2013 (ARC)

               JP: 
February 9, 2007

November 24, 2009 (ARC)

----

Virtual Console (3DS)

----

Virtual Console (Wii U)

Platform(s)
Genre(s)
Arcade
Rating(s)
ESRB  PEGI  CERO  USK  ACB

Credits • Gallery • Cheats & Hints • Videos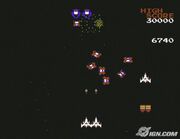 Galaga is an arcade game made by Namco. The game has been ported to lots of consoles, with the Nintendo Entertainment System version being re-released on the Virtual Console and is part of Namco Museum for both the Game Boy Advance and Nintendo DS. It's much like the older Space Invaders but with more freedom of movement and no barriers to hide behind.
Gameplay
Control with the rocket ship, and shoot the aliens, if you get caught by alien or exploded an rocket, you will lose a life, and lose the last rocket ship. Then, Game Over, the game results will be shown after the Game Over.
Legacy
Ad blocker interference detected!
Wikia is a free-to-use site that makes money from advertising. We have a modified experience for viewers using ad blockers

Wikia is not accessible if you've made further modifications. Remove the custom ad blocker rule(s) and the page will load as expected.