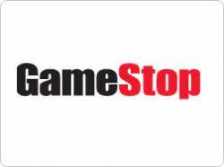 GameStop is the world's largest video game retailer that carries video games on all current platforms.
Nintendo Products Offered/Carried
Game Stop buys back most of the current systems' games and accessories, however the store does phase out buying back components from older systems due to obsolescence.
NES - 1991-2003
Game Boy - 1991-2005
SNES - 1991-2003
Virtual Boy - 1996-1997
N64 - 1996-2005
Game Boy Color - 1998-2005
Game Boy Advance - 2001-04/03/2011
GameCube - 2001-04/01/2012
Nintendo DS - 2004–Present
Wii - 2007–Present
Nintendo 3DS - 2011–Present
Wii U - 2013-Present

Companies Merged
GameStop acquired several other companies due to merging.
Babbages
Funcoland
Planet X
Rhino Video Games
Software Etc.
External links
Ad blocker interference detected!
Wikia is a free-to-use site that makes money from advertising. We have a modified experience for viewers using ad blockers

Wikia is not accessible if you've made further modifications. Remove the custom ad blocker rule(s) and the page will load as expected.