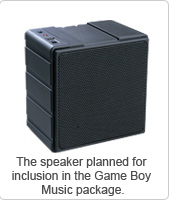 Game Boy Music was a video game to be released on the Game Boy, but was eventually canceled. It was going to be published and developed by Nintendo, and was at times also known as Pocket Music. After being canceled on the Game Boy, it was then planned for the Game Boy Advance, though like the original this was also canned. It was finally released on the Nintendo DS under the name of Daigasso! Band Brothers.
In the game, the player could connect with another Game Boy owner. The objective of the game was to press the buttons at the right time in order to stay with the beat.
Ad blocker interference detected!
Wikia is a free-to-use site that makes money from advertising. We have a modified experience for viewers using ad blockers

Wikia is not accessible if you've made further modifications. Remove the custom ad blocker rule(s) and the page will load as expected.