Ad blocker interference detected!
Wikia is a free-to-use site that makes money from advertising. We have a modified experience for viewers using ad blockers

Wikia is not accessible if you've made further modifications. Remove the custom ad blocker rule(s) and the page will load as expected.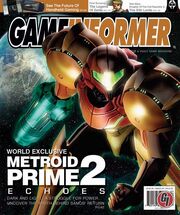 Game Informer is a magazine that's first issue was released in August 1991. It is owned by Gamestop, a game selling company, though it will also be sold else where such as Barnes & Noble, and others. It features all current Nintendo made products, as well as it's competitors.
Game Informer is self-proclaimed "The World's #1 Computer and Video Game Magazine", as stated on every recent cover of the magazine.
Features
Staff - Information on all the staff
GI Spy - Pictures of some of the companys in Video Games
Dear GI - Letters that fans have sent in, as well as fan art
Connect - Latest Technological News
Gear - Covering all Gadgets and Gear
Opinion - An editorial on the state of video gaming
Cover Story - All the info on the game or subject on the cover
Previews - Previews on upcoming games
PhotoPhile - Many photos of upcoming games with short descriptions
Reviews - Reviews of games that just came out, or are about to
Charts - Top 20 selling video games
Reviews Archive - Many old review scores from past issues
Secret Access - Cheat and hint page
Classic GI - reviews of classic games
Game Over - Video Game Trivia
Other Info
Official Website
US $5.99 retail price