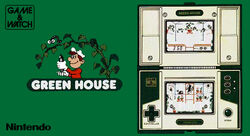 Greenhouse is a game in the Game & Watch series.
Legacy
Greenhouse is also referenced in the Super Smash Bros. series, as Mr. Game & Watch's standard A button attack. Green House is an attack used by Mr. Game & Watch in which he uses a small pump and attacks with small puffs of gas which can be used repeatedly.
A microgame in the Nintendo DS video game WarioWare D.I.Y. is titled Greenhouse and is based on the Game & Watch game.
Ad blocker interference detected!
Wikia is a free-to-use site that makes money from advertising. We have a modified experience for viewers using ad blockers

Wikia is not accessible if you've made further modifications. Remove the custom ad blocker rule(s) and the page will load as expected.