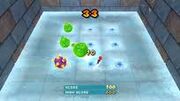 Gummits
(JP)
are enemies in
Super Mario Galaxy 2
. They appeared in both of
The Chimp
's ice skating challenges, which were "The Chimp's Skating Challenge" in
Freezy Flake Galaxy
, and "The Chimp's Ultimate Skating Challenge" in
Shiverburn Galaxy
. In the two challenges, they would pop up from holes in the ice, and
Mario
or
Luigi
would have to skate into them. There are three kinds of Gummits: green, which give 10 points; gold, which give 50 points; and spiky, which knock one of the Mario brothers back. All kinds of Gummits can be bumped into without taking any damage.
Ad blocker interference detected!
Wikia is a free-to-use site that makes money from advertising. We have a modified experience for viewers using ad blockers

Wikia is not accessible if you've made further modifications. Remove the custom ad blocker rule(s) and the page will load as expected.