Quote

"Now this is cheeky, throwing me these cheap toys!"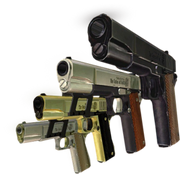 The handguns are a set of four guns found in the two Bayonetta games, they are a weak weapon only used to make the games tougher.Their combo attacks are the same as the Scarborough Fair.In the first game, the Handguns are usable on a first play through during the Prologue and are latter replaced by Scarborough Fair,the same happens in Bayonetta 2 but this time they are replaced by Love is Blue.
In game description
"Automatic handguns produced by Rodin. Unable to withstand the intensity of magic-imbued bullets or melee attacks, those capable of such feats must be careful in holding back their full power."
Bayonetta 2
"Automatic pistols from Rodin to serve as some means of protection in the human world. Designed to be used by normal humans, these weapons are unable to withstand concentrated amounts of magic when firing, so witch energy must be controlled carefully."
How to obtain
Bayonetta
In the first game they are firstly obtained in the prologue of the game and are remplaced at the end of the chapter, they can latter be obtained by completing the game on Normal difficulty.
Bayonetta 2
In the second game they are also initially playable in the prologue stage by default and latter obtained by completing the game on any difficulty.
Trivia
The handguns are unable to produce Wicked Weaves.
They are modeled after the M1911 pistol.