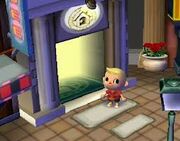 The Happy Room Academy, commonly abbreviated to HRA, is an organization found in the Animal Crossing series that rates your house based on its merits. The better your score is, the more exclusive gifts you'll come in possession of. To raise your grade, you'll have to furnish your home with various items, preferably matching ones (or rather items found in the same group).
Animal Crossing: City Folk
Animal Crossing: New Leaf
In Animal Crossing: New Leaf, the Happy Room Academy becomes the Happy Home Academy and their office gets merged with Nook's Homes. Instead of being graded on a single room in the player's house, every room in the house gets graded and their score combined in addition to if the player's house is stylized. The scoring mechanic has changed very little otherwise though. Once passing certain thresholds of points, the player gets certain prizes. Here are the prizes with their respective required scores:
HHA Tee- 10000
HHA Pennant - 20000
HHA Jacket - 30000
Silver HHA Plaque - 50000
Gold HHA Plaque - 70000
Silver HHA Trophy - 90000
Gold HHA Trophy - 100000
Gold House Model - 150000
Golden Roof - 300000
Golden Exterior - 500000
Arched Golden Door - 700000
Golden Fence -900000
Golden Mailbox - 1100000
The contest portion in which the highest scoring home gets showcased has been removed. Instead, the Happy Home Showcase includes all homes the player has Streetpassed or received via Spotpass. This area is headed by Digby.