Hiromasa Shikata is a Nintendo employee, mostly known for his work in The Legend of Zelda series. He joined the company in 1997 as a background artist and designed various areas in Zelda titles, such as the Kakariko Village Windmill in Ocarina of Time and the Forsaken Fortress and Windfall Island in The Wind Waker.
In later years, he became involved in planning on most portable Zelda titles, becoming the director of A Link Between Worlds and Tri Force Heroes. He was also the planner of The Legend of Zelda: Battle Quest game in Nintendo Land.
He had the position of Coordinator of Nintendo EAD3 before the reestructure to Nintendo EPD.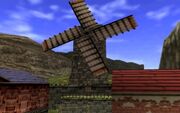 Game Works
Interviews
External Links
Ad blocker interference detected!
Wikia is a free-to-use site that makes money from advertising. We have a modified experience for viewers using ad blockers

Wikia is not accessible if you've made further modifications. Remove the custom ad blocker rule(s) and the page will load as expected.