Ad blocker interference detected!
Wikia is a free-to-use site that makes money from advertising. We have a modified experience for viewers using ad blockers

Wikia is not accessible if you've made further modifications. Remove the custom ad blocker rule(s) and the page will load as expected.
Hiromasa Shikata
is a
Nintendo
employee that joined the company in
1997
during the development of
The Legend of Zelda: Ocarina of Time
. After the game was completed he joined the Zelda team, and from here he worked in every main console Zelda game. He works primarily as an artist, and his only know contributions for the series are the
Forsaken Fortress
in
The Legend of Zelda: Wind Waker
and the
Kakariko Village
Windmill in Ocarina of Time. He has also served as a planner for
The Legend of Zelda: Battle Quest
in
Nintendo Land
.
Game Works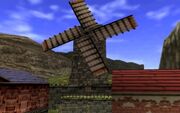 Zelda Works
Other Works
External Links
An in-depth look into his career