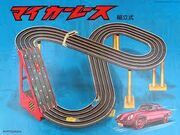 Home Race is a toy Nintendo released in 1965 exclusively in Japan. It is a magnetic tank game where the player attempts to get to the end before the other tanks by dodging their attacks. Up to five players could participate in the game at once.
Ad blocker interference detected!
Wikia is a free-to-use site that makes money from advertising. We have a modified experience for viewers using ad blockers

Wikia is not accessible if you've made further modifications. Remove the custom ad blocker rule(s) and the page will load as expected.