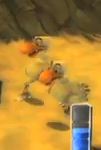 Hoppers are bird-like Beetleworx found in Epic Mickey. Mickey first meets Hoppers in Mickeyjunk Mountain. They are the second types of Beetleworx.
Appearances
Epic Mickey
A Hopper acts as its name implies. Since it is a Beetleworx, Paint cannot redeem these enemies, as all machines have no emotions. A Hopper can only be defeated when Mickey uses Thinner and his Spin move.
Strategies
Hoppers can only be defeated when Mickey removes its armor. After its armor is gone, it is vulnerable and can be defeated by using a Spin Move.
Another way to defeat a Hopper is to knock them off the ledges or Thinnerfalls. If Mickey knocks it into a Thinnerfall, an arrow will still appear, meaning the Hopper is still alive. If Mickey knocks it off a ledge, it will die.