I-Points are what needs to be collected during the Island Flyover game in Wii Sports Resort. There are a total of 80 I-Points. I-Points return in Pilotwings Resort, although there are only 75 in this game.  These are found around landmarks on Wuhu Island .  Some I-Points around moving objects will have to move to follow them, such as the one following Miguel's Guide Plane.  There are technically 76 I-Points in Pilotwings Resort, but the 76th point does not count as it has to be unlocked by getting 3 stars on every mission.  That I-Point is dark blue at the start of every flight, and follows Meca Hawk.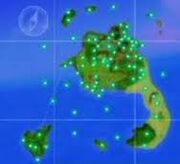 Ad blocker interference detected!
Wikia is a free-to-use site that makes money from advertising. We have a modified experience for viewers using ad blockers

Wikia is not accessible if you've made further modifications. Remove the custom ad blocker rule(s) and the page will load as expected.