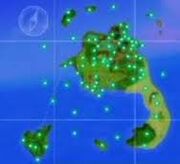 I-Points are what needs to be collected during the Island Flyover game in Wii Sports Resort. There are a total of 80 I-Points. I-Points return in Pilotwings Resort, although there are only 75 in that game. These are found around landmarks on Wuhu Island . Some I-Points around moving objects will have to move to follow them, such as the one following Miguel's Guide Plane. There are technically 76 I-Points in Pilotwings Resort, but the 76th point does not count as it has to be unlocked by getting 3 stars on every mission. That I-Point is dark blue at the start of every flight, and follows Meca Hawk.
List of I-Points
                                  

                                  

            

Name
Day
Evening
Night
The Queen Peach
This luxury cruiser is the picture of elegant opulence.
While in port, the ship's extravagant swimming pool is closed.
This ship hosts lavish parties every night. Sorry, no flip-flops.
Bowling Alley
If you're into bowling, this is the place to be.
This island is proud to have one of the best bowling alleys around!
Some people travel to Wuhu Island just to bowl here.
Swordplay Colosseum
Swordplay duels are held in this specially built floating arena.
The spectators obviously enjoy watching people fall in the sea!
Night is the only time the colosseum is quiet and tranquil.
Basketball Court
All of the basketball action on Wuhu Island happens here.
Three-point contests are held here, but it's mostly quiet in the evening.
At night, the 3-Point Contest is held here. Fans go wild!
Broken Clock Tower
Don't set your watch to this clock tower -- it stopped!
Some clock fanatic stole one of the clock's hands!
They could repair it, but then it wouldn't have the same charm.
Wishing Fountain
Tourists throw coins in the fountain and make a wish.
When the sun is right, all of the coins in the fountain sparkle.
Nobody makes any promises about wishes come true, you know!
Runner's Circle
Die-hard runners meet up here before their daily run.
Some people don't like to run in the day because of the island heat.
Some people prefer to run in the night, when it's nice and cool.
Footbridge
When it's windy, you can get drenched by the waterfall mist!
Occasionally, the bridge will get washed away after a big storm.
On a hot night, people hang out on the bridge to cool off.
Hillside Cabins
These small vacation cabins are just a five-minute walk from town!
These cabins are a great alternative to the bustle of downtown living.
Sounds like someone's

 

playing an NES, but they need some pointers…
Sundown Point
Every photo taken here ends up turning out like a postcard.
The setting sun beyond the island makes for a breathtaking view.
People come here at night just to see the moon over the sparkling sea.
Beginner's Archery Area
Even this easiest Archery range takes skill to master.
Wind can push the flight of the arrows. Planes probably don't help…
Take aim and hold your breath… but not for too long!
The Candle
This lighthouse was mistakenly built at twice the planned size.
Some say it was designed to look like a candle, but that's just a myth.
This lighthouse shines as bright as 1,600,000 candles!
Pirate's Eye
The elements have cut a perfect hole in the side of this cliff.
Flying through the Eye is said to bring good luck. If you're lucky.
Don't worry--there aren't any pirates in these waters!
Wind Orchard
These massive windmills provide clean power for the whole island.
A warm tropical breeze keeps these huge blades spinning.
Imagine how fast your plane could go if it had a propeller that big...
Starboard Harbor
Fancy yachts from all over the world drop anchor here.
Many boaters like to watch the sunset from their yachts.
The harbor is full of life even late into the night.
Red Iron Bridge
This massive bridge is a famous landmark of Wuhu Island.
The evening sunset is dazzling for drivers heading into town.
It's tempting to fly through it, but don't get clipped by cables!
Palm Boulevard
This seaside boulevard is lined with majestic palm trees.
It's not that grand , but it creates a vacation atmosphere.
The first cycling stage, "Around the Island," starts here.
Cocoba Hotel
Five-star accommodations. Sadly, they don't take coupons.
World-class hospitality. Stop by to watch the evening cycling race.
Only the finest sheets are soft enough for this hotel's fancy beds!
Pool Patio
Table-tennis fans play all day, then cool off on the pool patio.
Somebody has to fish all of the stray balls out of the pool!
The pool patio is a popular hangout at night.
Tennis Courts
Unfortunately, the dogs on the beach ran off with all the tennis balls.
If you're in the mood for Table Tennis, head to the pool patio.
Hopefully, the dogs won't get the next shipment of tennis balls, too…
Sugarsand Beach
A huge white beach with sand like powdered sugar.
At sunset, the sky, sea, and sand blend into a golden glow.
This is the place to go for hanging out after the sun goes down.
Camel Rock
This rock used to look more like a camel, you know…
Over the years, the wind has worn away the camel's humps.
Maybe they should change the name to "Not-Quite-A-Camel-Rock"?
Frisbee Dog Park
Frisbee Dog competitions are held on this beach.
The sand is perfectly manicured just for the dogs.
The dogs on Wuhu Island are even more pampered than the guests!
Starry Beach
The sand grains are curiously shaped like stars.
As you'd guess, this beach is also a great place to watch the night sky.
They sell bottles of the star-shaped sand grains as souvenirs.

 

Sweet Beach
This quiet, tranquil spot is one of the most romantic on the island.
There's nothing but the soft sound of lapping waves. And planes.
This gorgeous spot is featured on countless postcards.
Island Loop Tunnel # 1
This tunnel burrows through the mountain to link the Island Loop road.
Don't even think about trying to fly out between the pillars!
Rumor has it, there are monsters living in this tunnel…
Island Loop Tunnel # 2
The main road around Wuhu Island goes through this tunnel.
Watch out for traffic!
Slow down!
Toppled Monument
This ancient stone monument has toppled over.
How many centuries did this monument stand before it fell over?
Now the fallen rocks look as though they belong there.
Heartbreak Peak
It's easy to see how this steep hill got its name.
This is a top destination for people wanting a serious workout.
It won't break your heart, but it will definitely make it pound!
Lava Tube
What could have made this massive hole in the side of the volcano?
Apparently, it wasn't made by lava at all… It's man-made!
Archaeologists think this tunnel was built by ancient inhabitants.
Silk Sands
The soft, smooth sand in this pit squishes between you toes.
The unusual type of sand here sets like concrete when mixed with water.
How did this pit of silky sand get up here, anyway?
Hilltop Overlook
What a view! You can see the bridge, lighthouse, and Wedge Island.
A great spot to admire the island at sunset.
The town is nice, but people mostly come for the fireworks.
Swaying Bridge
This rickety bridge is fun--and scary--to walk across.
It takes a lot of guts to ride a bicycle across this bridge!
In Swordplay Showdown, you have to fight across this bridge!
Forest Monument
This is one of three mysterious rock monuments on the island.
It's almost like this monument was built to guard the forest.
Who built this strange monument, or is it natural?
Evergreen Grove
This untouched grove is filled with rare and exotic birds.
It's getting dark, so the exotic birds that nest here are quieting down.
At night, wild animals roam around these woods.
Talon Rock
If you had wings, you could glide off this cliff all the way to town.
You'd need a wingspan of 30 yards to fly…if you had wings.
Some cyclists are brave enough to ride a bike off this cliff!
Stillwater Grotto
Watch Out!
Stop reading this and pay attention to not crashing!
Are you sure you can make it?!
Weathered Monument
This ancient monument was built with massive blocks of stone.
It's not entirely clear what this monument's original purpose was.
The stone on top weighs an astonishing 120 tons.
Heart of Maka Wuhu
This mountain tunnel bores right through the heart of the volcano.
The rocks here are always wet and slippery--don't slip and fall in!
Big, empty caves can be a little unnerving. Especially in a volcano!
Dead-End Point
This is the end of the road. Better start the long hike back!
It may be a dead end, but it's got a great view of the ruins.
It's getting dark! Those people better start heading back to town.
Mountain Hikers
It's a tough hike, but the view is worth it.
It's starting to get dark. Those hikers better head back!
Up here, you could almost reach out and grab the stars in the sky.
Duckling Lake
This glassy mountain lake is popular with canoeists. Beautiful!
The lake water at sunset looks just like orange juice!
The water is so dark at night…is anything lurking down there?
Summerstone Castle
It's not an easy hike, but the view from the castle is amazing!
This castle has unbelievable views--especially at sunset!
The high walls of the castle make for a perfect spot to watch fireworks.
Summerstone Falls
Seven tons of water cascade every second from a height of 330ft.
You really wouldn't want to go down this waterfall in a canoe!
The water of Wuhu Island is full of healthy minerals. Delicious!
Mountain Monument
This monument looks man-made, but how did they get the rocks up here?
Shards of rock splintered off when the monument fell over.
Legends say this monument will right itself one day.
Lone Cedar
It's a long hike up here, so don't forget anything!
There's a path right into the volcano nearby.
How did this big cedar grow so close to an active volcano?
Lava Monument
Nobody knows how these rocks got into this pool of lava.
Maybe this volcano wasn't active when this monument was built.
It's so hot in here! You could bake a pizza on these rocks…
Maka Wuhu
Inside this active volcano, lava boils and churns all year round.
This volcano is unusual--the center is completely hollow!
This volcano is active, but it hasn't erupted in 200 years.
Off-Road Vehicle
Only electric vehicles are allowed to drive on Wuhu Island.
Looks like a dead battery! Hope they make it home before dark…
Don't worry--somebody will come help them soon. Hopefully…
Cedar-Tree Tunnel
The tunnel leads to the Lone Cedar and the volcano entrance.
The path snakes past the Lone Cedar and to the Mountain Monument.
This path goes all the way round the top of the mountain.
Entrance to the Mysterious Ruins
This is as far as vehicles go; from here on up, you have to walk!
Lots of hikers come here, but most get tired and turn back.
Sometimes you can hear eerie singing at night…
Mysterious Ruins
Archaeologists have discovered piles of ancient coins in these ruins.
These ruins have signs of ancient traps built to scare away thieves.
A pit was discovered in the ruins, but everyone is too scared to explore it!
Cliffside Ruins
How did they build this all the way up here?
The stone blocks are perfectly laid--you can hardly see any gaps!
Ancient writing is chiseled into the rock, but it's getting faded.
Serpent's Mouth
This spooky cave entrance seems to be an entrance to the ruins.
Don't even think about trying to fly a plane in there…
Some say the waves hitting this cave entrance make a sound like a hiss…
Sea Serpent Cavern
This twisting sea cave snakes underneath the Mysterious Ruins.
This spooky sea cave is now a playground for Power Cruisers.
At night, the cave has a kind of calm, tranquil atmosphere.
Needlepoint Spire
This needle-sharp rock juts straight out of the sea.
At almost 200 ft. high, it's one of the tallest formations on the island.
This tall spire doesn't look nearly as forbidding; next to Maka Wuhu!
Power-Cruising Area
This is where the Power Cruising races are held.
You can press - before a race to cruise around the island.
Try free cruising on the Lighthouse course to explore at night!
Beginner's Wakeboarding Area
This stretch of sea is where the wakeboarders catch big air!
The smooth water here attracts some world-class wakeboarders.
The secret to wakeboarding is to land flat! OK, it's not such a secret...
Whale Watchers
Whales are often sighted off the island, especially in this area.
The massive whales here make quite a splash.
You can't see anything at night, but people come to watch anyway.
Diving Spot
Divers of all skill levels come to swim with the ocean life here.
Divers go down to watch the undersea life at all hours.
Diving at night must be pretty scary!
Sportfishing Spot
All of the sportfishing on Wuhu Island is catch and release.
Being out on the beautiful ocean is half the fun of sportfishing.
At night, the sportfishing types hang up their poles and swap stories.
Undersea-Cable Inspectors
Wedge Island is linked to the main island through undersea cables.
Inspecting undersea cables can't be all that exciting…
It's too dark to even see the cables, let alone inspect them!
Extreme Canoeist
Wedge Island and back? A piece of cake!
The view of the setting sun must be worth the effort to get out there!
That's a long way to paddle. Must be lonely…
The Sea Caddy
This regular ferry service links Wuhu Island and Wedge Island.
If you're lucky, you might spot a whale on your ferry ride!
This is the last boat back to Wuhu Island today.
Wedge Island Marina
The people carrying small bags must be here for Frisbee Golf.
The last ferry to the main island leaves at 8:30 p.m. Don't be late!
The last ferry to the main island has already left.
The Nineteenth Hole Hotel
Drop by the café for a bite to eat after a round of golf.
Your golfing mishaps will melt away at the sauna and spa facilities.
Most of the golfers who vacation here are early-morning types.
Crab Rock
This unnatural-looking rock formation is popular with climbers.
Tourists often ask why it's called Crab Rock. Locals only shrug.
Local golfers have nicknamed this rock formation the "Double Bogeys."
Golf Area A
Countless golfers have shaken their fists at these brutal water hazards.

 

Golfers on this course quickly learn it pays to take a practice swing.
Every blade of grass is meticulously cared for on this first-class course.
Golf Area B
The groundskeepers can hardly keep up with the fast-growing grass.
The wind can really pick up off the shore of Wedge Island.
Even if you have a bad day on the course, there's always the view!
Golf Area C
Scuba divers often search off the coast of Wedge Island for stray balls.
On some of these holes, you're one hook or slice from the sea!
Pack extra golf balls when you're playing this course!
Gateway to Wuhu
This picture-perfect arch welcomes you to the island with a great view.
It does look a little like Barnacle Arch, actually…
At night, the arch does look a little like a gateway to another world…
Deserted Island
It wouldn't be so bad to be stranded on this tropical island.
This small island has never been inhabited.
This tiny island remains as a slice of untouched paradise.
Private Island
This island would be a perfect place to build a vacation home.
A house here would have an amazing view of the island and ocean.
How would a home out here get water and electricity?
Barnacle Arch
This sea arch is just begging for someone to fly under it…
There's another arch like this one around Wuhu Island.
At night, this arch looks a little like a pair of rocky pants…
Cabana Lagoon
Quiet and laid-back, this is a place to put your feet up and relax.
Nice and quiet, when the Power Cruisers aren't racing.
It's even quieter here at night. Except for the occasional plane…
Firework Launch Zone 1
They launch fireworks off from here at night. It's quite a show!
Firework teams compete on the island for the most dazzling show.
Hey! You can't fly over here at night! It's dangerous!
Firework Launch Zone 2
One of the two firework launch zones on Wuhu Island. Watch out at night!
One of the best firework teams shoots off their fireworks from here.
You can't fly over here at night! They launch fireworks from here!
Seaplane Team
We're the Blue Sky Acrobatics Club. You should join us sometime!
We're the Sunset Acrobatics Club. Want to be a member?
We're the Starry Sky Acrobatics Club. How about it--want to try?
Miguel's Guide Plane
I'm Miguel! If you follow me , I'll guide you to some of the i points!
If you get lost, press 1 to fire a flare. I'll shoot one off, too!
I fly around to some of the island's sightseeing spots.
The Whale Shark
Sky, sea, and sand!

 

~ Wii Sports Resort ~
Surfing, slicing, slaloming! ~ Wii Sports Resort ~
Swinging, splashing, shooting! ~ Wii Sports Resort ~
The Whale Shark 2nd Entry
You did it, Mii! Hope you enjoyed flying around the island!
Amazing, Mii! You were born to fly!
Wow, Mii! You know this island better than the locals!
Private Island 2nd Entry
Mii's resort house is here! The mark of a true islander!
Mii's resort house is here. A little rustic, but what a view!
Mii's resort house is here. A little piece of paradise…
Ad blocker interference detected!
Wikia is a free-to-use site that makes money from advertising. We have a modified experience for viewers using ad blockers

Wikia is not accessible if you've made further modifications. Remove the custom ad blocker rule(s) and the page will load as expected.