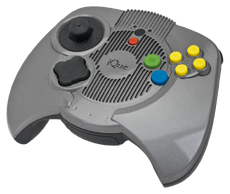 The iQue Player is a console sold exclusively in China. It was developed jointly by Nintendo and iQue to curb the rampant piracy of Nintendo games in China. The iQue Player hardware is essentially a miniaturized version of the Nintendo 64, entirely contained within the controller. As such, games on the iQue player are direct ports of Nintendo 64 games. Games are stored on a 64MB flash card and purchased at kiosks. Demo versions of three games come included with the iQue player.
Unlike the Nintendo 64, which had very rudimentary online capabilities in Japan, the iQue Player has much more fully-featured online capabilites, including cloud storage and game updates. However, the console can only connect online through a USB connection on a PC.
List of video games
In order of release, the following are the video games released on the iQue Player. All of the games were games published by Nintendo in other regions.
Differences between the Nintendo 64 and iQue games
There is no difference between Nintendo 64 version and the iQue Player version of these games except for the fact that text and voices have been translated to Chinese. The only exceptions are the Mario games and and the previously Japan-only title Sin and Punishment: Successor of the Earth, where the text has been translated while the voices remain in English. Also, the iQue games are newer than the N64 counterparts, so many glitches and errors from the original games have been fixed. Some features were also removed due to the system's lack of support for N64 controller accessories like the Rumble Pak. Due to this, many games that originally supported the rumble feature no longer support it. Some features were also added. Many games that allow the player to enter his/her name now have the option to use their iQue Player's username, which can be set at the iQue Player's main menu.